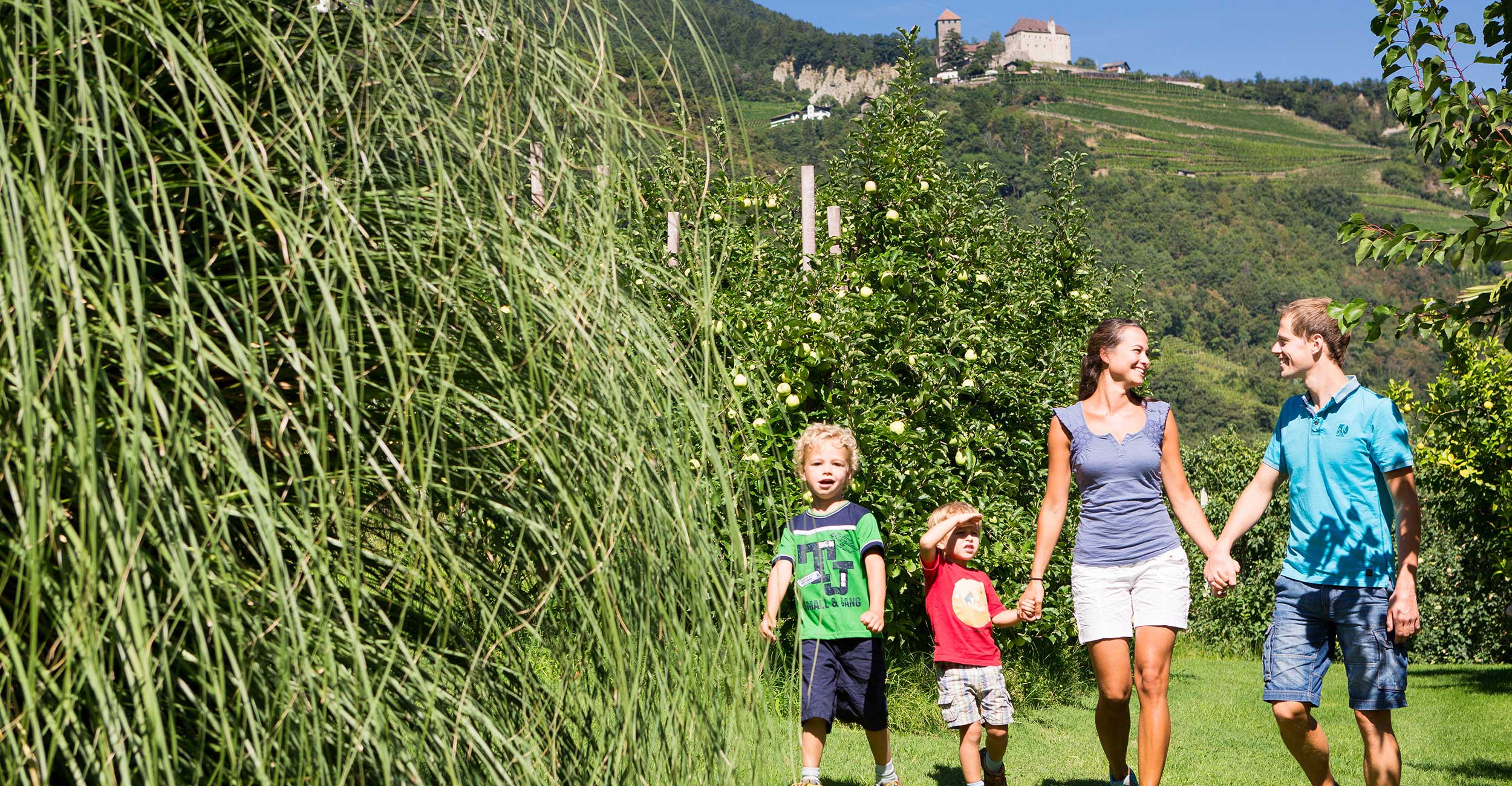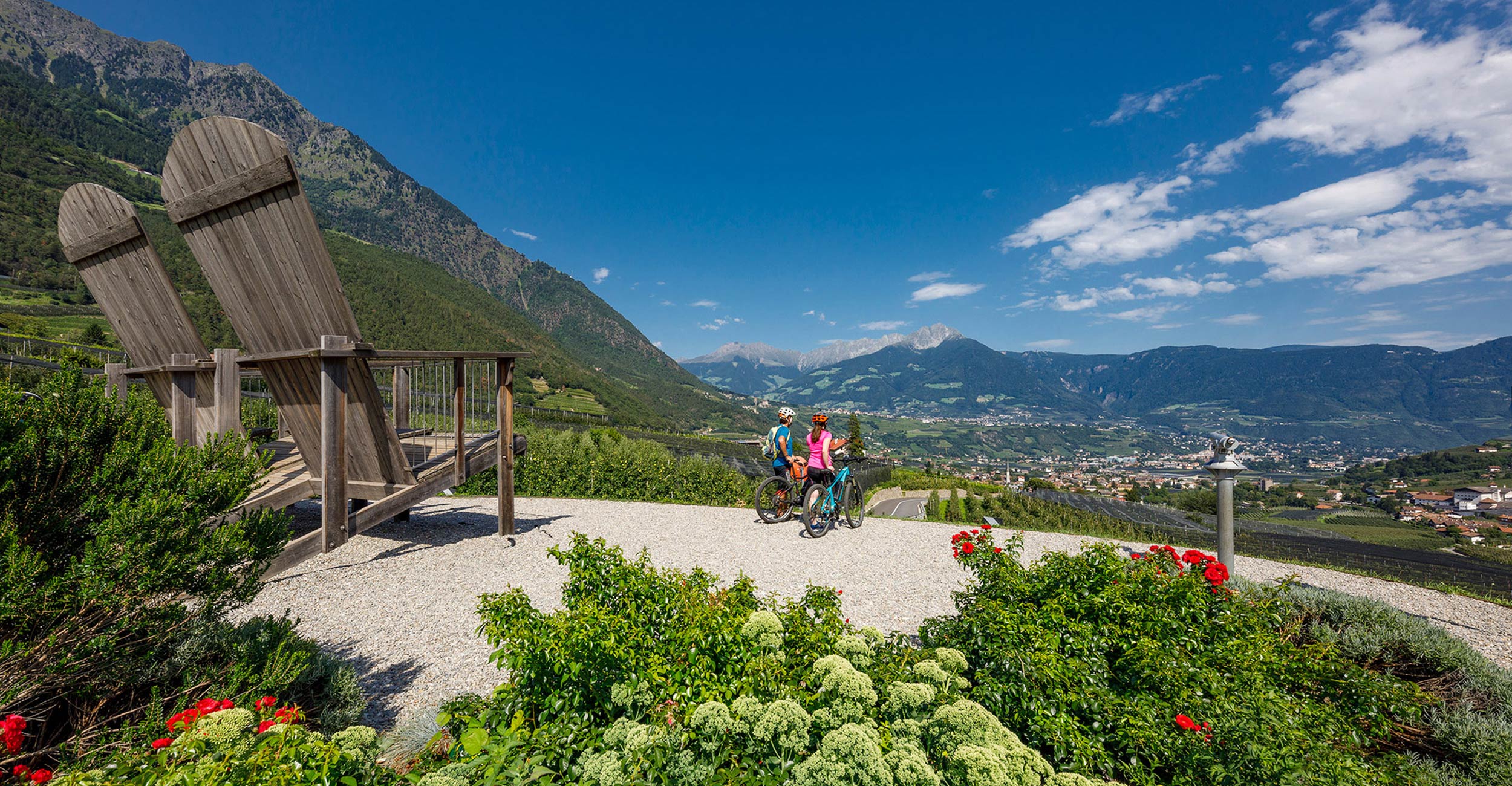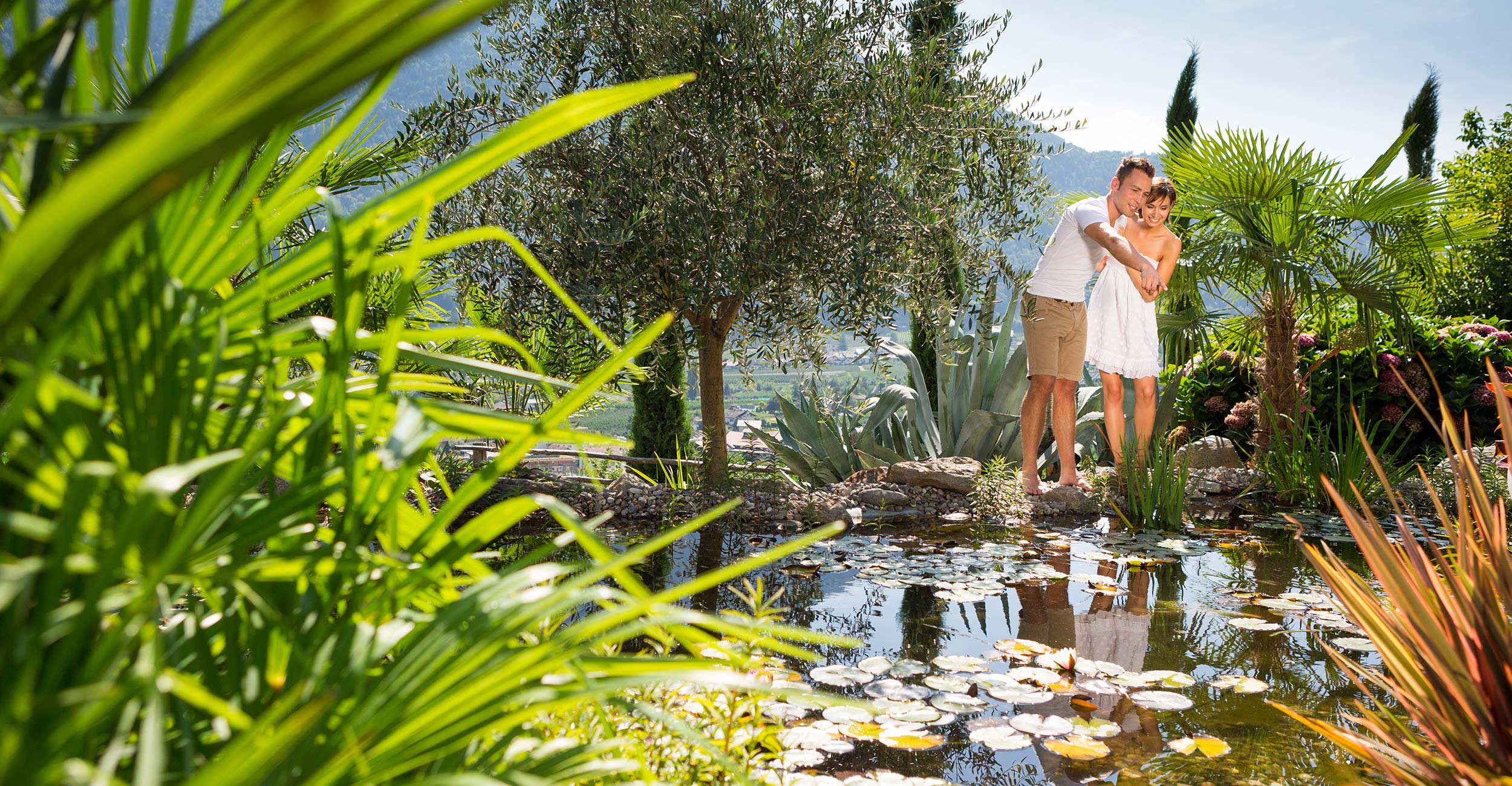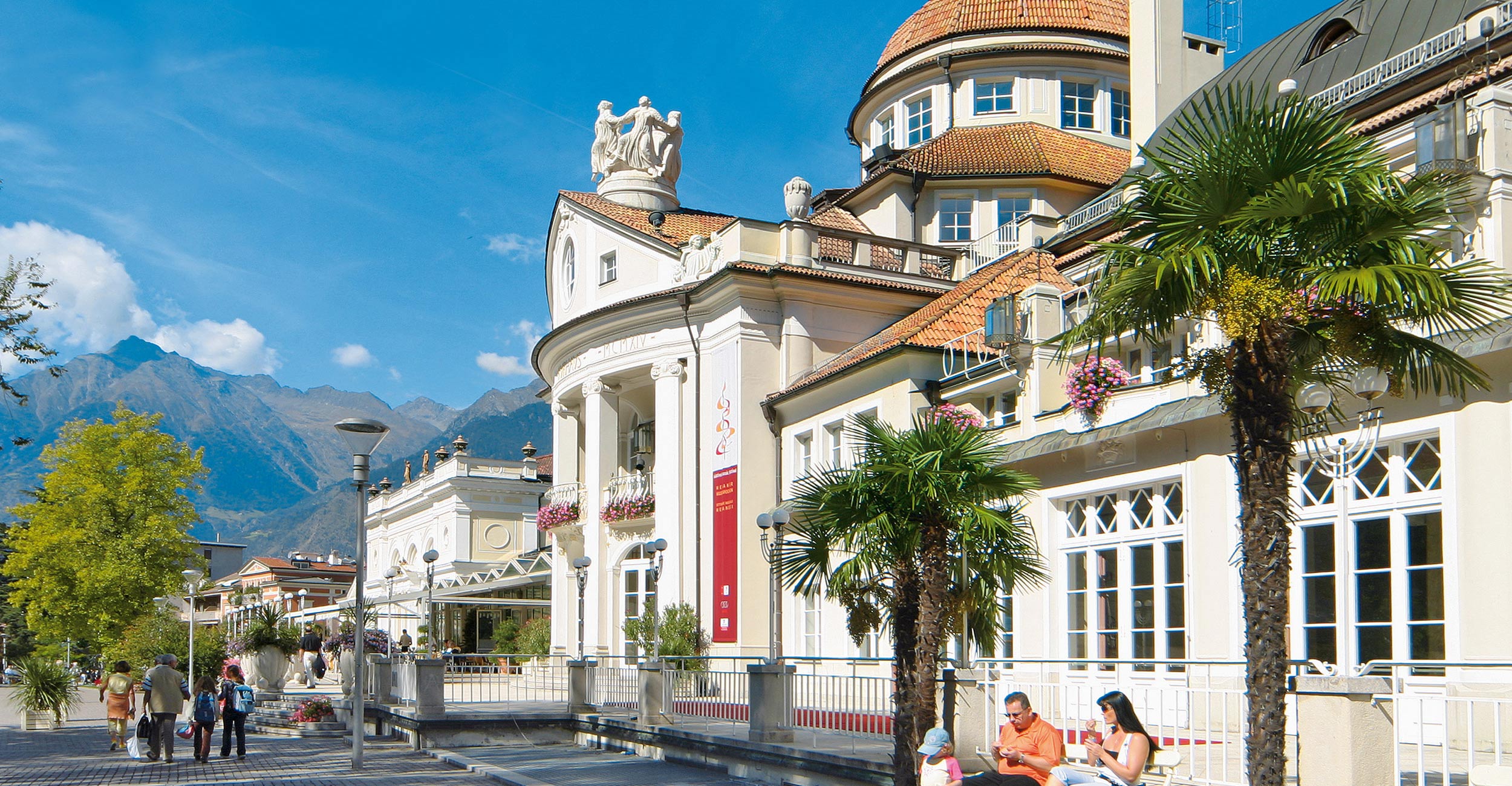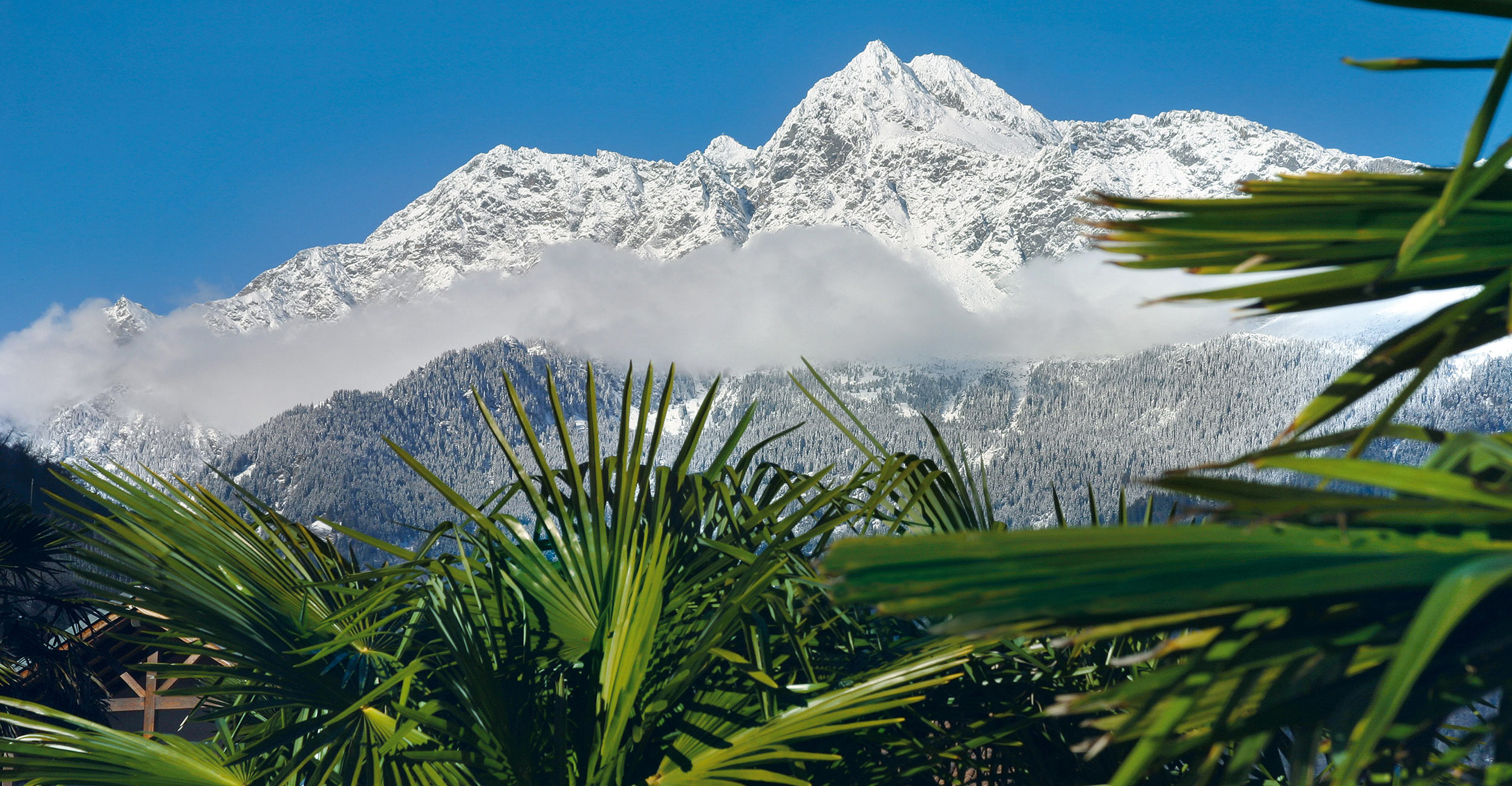 Algund, the holiday destination right in the pulse of Meran
A special feature of the garden village of Algund is its proximity to the spa town of Meran. Despite being able to spend a holiday right in the midst of nature, where you can relax from your stressful everyday routine, you are only a stone's throw away from the well-known spa town of Meran. It can be reached by public transport within a few minutes and offers you a broad variety of leisure activities. The climate in Meran is mainly Mediterranean, encouraging the growth of plants such as palm trees, cypress trees, holm oaks, laurel, myrtle and Lebanon cedars. The Texel Group mountain range in the North and North-West protect the valley basin from the rain and cold winds. The annual average temperature is 11.5 °C and there are approximately 300 sunny days per year.
Südtirol GuestPass Algund
The special PLUS for your holidays in South Tyrol!
A special welcome present awaits you on your next holiday in Lagundo.
With just one overnight stay you will also receive the Südtirol GuestPass Algund at the participating companies as a complimentary gift with your room rate.

The Südtirol GuestPass Algund is your ticket to an unforgettable holiday experience. The card allows you to use all public transport in South Tyrol as well as selected cableways and provides free admission to 80 provincial museums.
All free benefits
Summed up in a nutshell
Bus and train

Use of all public means of transportation belonging to the South Tyrol Integrated Transport Network:all city and extra – urban buses
Regional trains in South Tyrol (Brenner/Brennero – Trento, Mals/Malles – Innichen/San Candido). The card is not valid on Italian InterRegional trains or on OEBB, DB, Eurostar or Intercity trains.
The PostBus Switzerland between Mals and Müstair
Timetable and prices: www.suedtirolmobil.info/en

In order to transport your own bike on the train, an additional ticket for bike transport must be purchased. This can be bought at the ticket counters for € 7.00 per bike.

Lift facilities

The cable cars to Aschbach/Rio Lagundo, Vöran/Verano, Mölten/Meltina, Jenesien/San Genesio, Ritten/Renon, Kohlern/Colle and Meransen/Maranza
The narrow-gauge railway in Ritten/Renon and the cable railway up to the Mendel Mountain


Museums
The Südtirol GuestPass Algund grants one free admission to over 80 participating museums. Some museums are closed during winter months. Please consult the museum or the local tourist office for updated opening hours.


Exclusive Services

10% discount on bike and ski rentals at "Papin Sport" and "Sportservice Erwin Stricker"
10% discount on bike rental at Bike and Hike in Algund
All advantages of the GuestCard Algund

More details about the Südtirol GeustPass Algund you will find here.
Into the heart of the mountains
Enjoy and conquer South Tyrol's fascinating mountain world in a group of like-minded fresh air enthusiasts. Every Wednesday, we organise a guided Alpine hut hiking trip. Discover the breath-taking insights of fragrant Alpine meadows, blooming slopes, quaint forest paths and crystal-clear, rushing mountain streams. Experience a new quality of life away from everyday routine and stress.
Biking in Algund and the surrounding area
In Algund and its surrounding area, there is a variety of opportunities to discover the beautiful landscape on a bike and enhance your health at the same time. You can cycle through fragrant vineyards and orchards with a racing, trekking or city bike or use a mountain bike for the more demanding forest and Alpine trails... It all comes in various grades of difficulty and gives you different challenges. A trip along the old Roman Emperor road, called the Via Claudia Augusta is particularly beautiful. According to a 2,000 year old story, this route, which stretched from the Adriatic Sea and the Po plain to the Alps and across to the Danube River, will find – and has found – a new awakening. A part of this route runs from the Reschen Pass to Algund near Meran and from there further south, constantly keeping in touch with the Etsch River. This is another true paradise for cyclists. Along the road, there are numerous towns and villages with many places worth visiting, such as fortresses and castles, waiting to be discovered. There are also places to stop for a bite to eat, for new strength on the continuing journey. The surrounding area can be discovered by bike and train. The modern Vinschger railway brings you (for example) to Mals in the Vinschgau, and from there you can cycle back to Algund. There are a number of hotels and guesthouses offering a free bike hire service, which includes mountain bikes. In addition, the tourist board offers mountain bikes, city, trekking and e-bikes, as well as e-bike helmets for hire.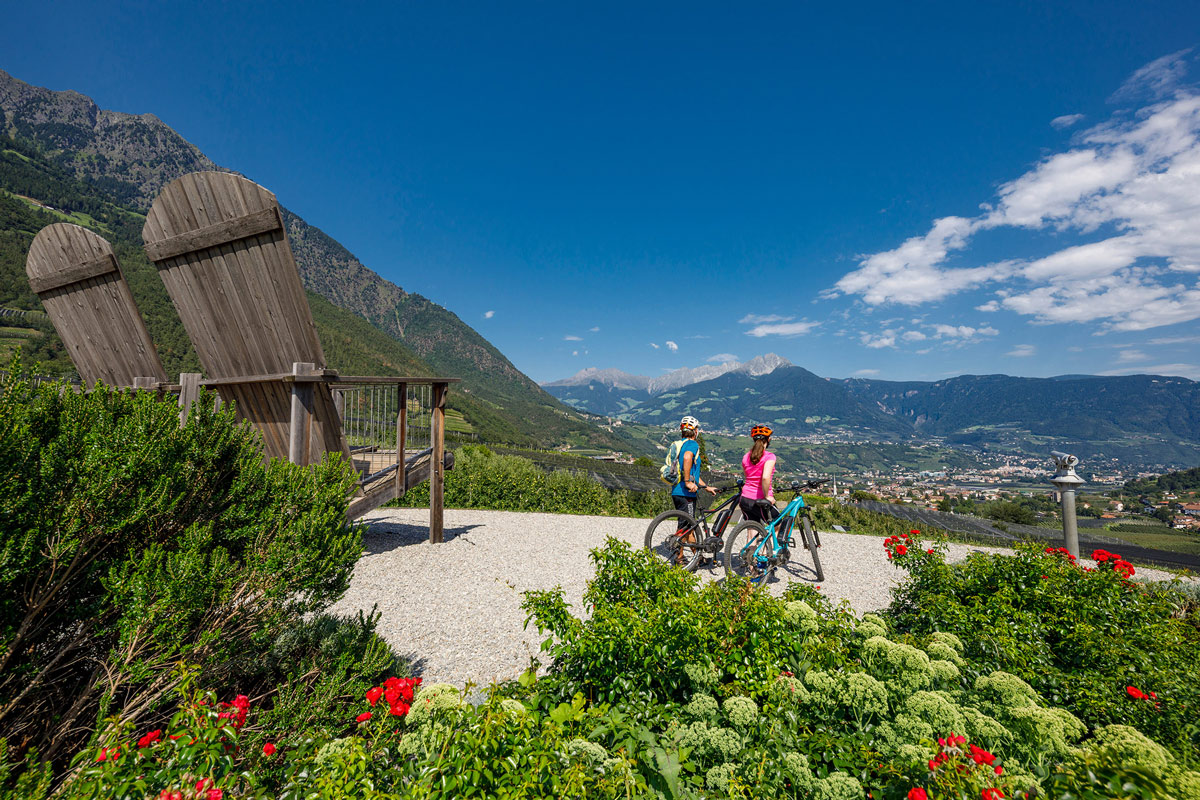 Playing golf
Playing golf on meadows, in forests and orchards
Fancy playing golf? Then you are at the right place! Only a few kilometres from Algund, there are a number of golf courses. With the Golf Card, you can get to know a number of them very easily. The card enables you to play at a reduced price on all five (5) golf courses in South Tyrol, as well as the nearby Dolomiti Golf Club. The Golf Card shows five (5) green fee sections (including a week-end day). For each entrance, one green fee section is being taken off the card. The card is available at all relevant golf hotels.
Our hotel Flora as B & B in Lagundo near Merano
You can gladly book our hotel as B & B, rooms with breakfast, or if you want our holiday apartments, very suitable for families.
Bed & Breakfast in Lagundo near Merano
If you prefer you can ask your rooms and appartments only as b & b, as bed and breakfast or the appartments completely without services.

Please ask.